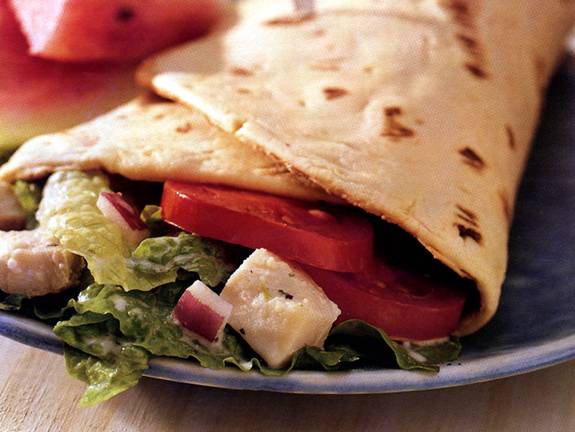 Here's another family favorite that's quick and easy. Havarti, a mild semisoft cheese from Denmark, makes this chicken-filled wrap super creamy and super yummy!
Ingredients
2 tablespoons EVOO
2 boneless skinless chicken breast, sliced into strips
1 bell pepper (I like to use red), sliced into strips
1 red onion, chopped
1 small package of sliced mushrooms
1/2 a head of lettuce, washed and broken into pieces
1 chopped tomato
6 slices of Havarti cheese (or however much you want)
6 tablespoons baba ganoush OR creamy garlic salad dressing
6 whole wheat tortilla shells
1. Heat EVOO in a non-stick pan on medium-high heat for 1 minute. Add chicken and cook until juices run clear and is no longer pink inside, about 10 minutes.
2. In a separate non-stick pan, heat EVOO for 1 minute, then add onions and cook for 2 minutes. Add the bell pepper and mushrooms and cook for another 5 minutes. Stir occasionally to avoid burning.
3. Place whole wheat tortilla on a plate with a slice of Havarti cheese. Layer tortilla with warm chicken, vegetable mixture, piece of lettuce, chopped tomato, and 1 tablespoon baba ganoush or dressing (or both!). The warmth of the chicken and vegetables should melt the cheese slightly.
Fold in sides by about 1 inch, then roll up tightly from the bottom.
ENJOY!
Me Ka Aloha
- Elisabeth